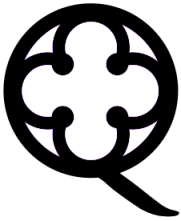 While there are plenty of sights to see in Lucca, make sure to leave room in your visit for the unexpected. What we love most about the city are the day-to-day facts of life: long walks, browsing the outdoor markets, eating, shopping, and stopping for a cappuccino or gelato on a whim. These are just a few of the reasons to leave plenty of unscheduled time:
Click image to enlarge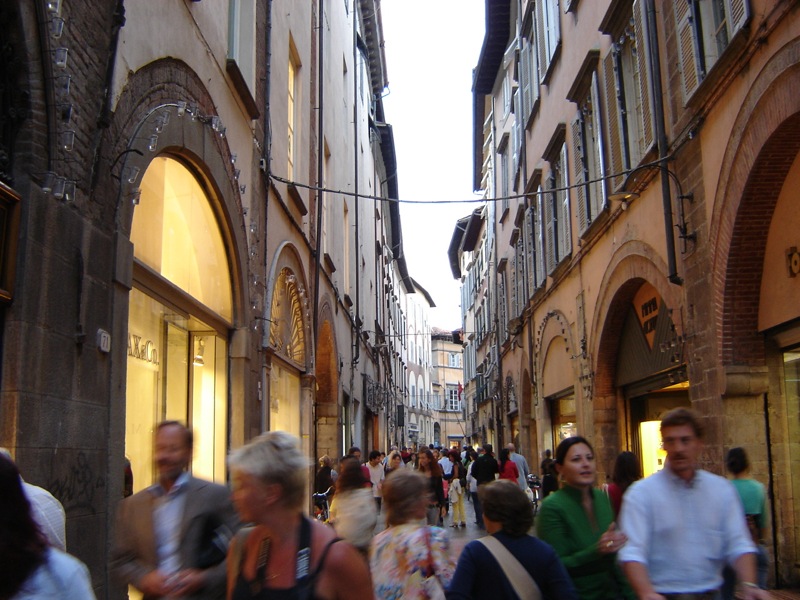 Via Fillungo
Each day, in the morning and again in the late afternoon, locals and visitors alike pour into the streets for window shopping and people watching. The center of this daily ritual is Via Fillungo, Lucca's main street that runs north-south before curving to the northeast toward Piazza Anfiteatro and San Frediano. Along the way, stop at stores with speciality foods, high fashion, and local gifts. Practice before you go by wandering through town on the street-by-street Lucca virtual walkthrough.
Living for food
The Lucchesi are passionate about eating and they make sure to do it well. Fresh, local ingredients are available all year round from the city's markets and shops. Internationally-recognized restaurants inside the walls show off traditional Lucchesi cuisine with a modern touch.
Click image to enlarge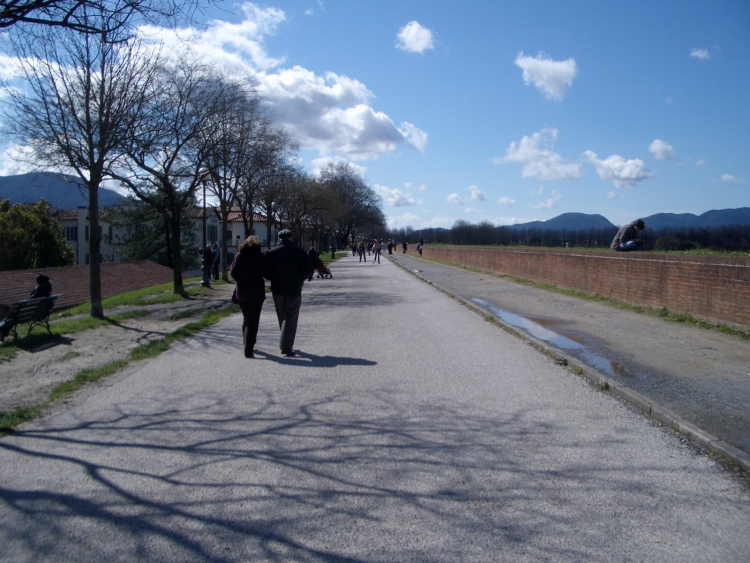 Walking the walls
There was a time when all the Italian city-states were surrounded by defensive walls, but in most cases only fragments survived the population growth brought by industrialization and modernity. In Lucca, things happened differently. Soon after the need for them disappeared with the advent of modern warfare, the massive walls were transformed into one continuous public park, with a wide road for walking and biking, dotted with open fields atop the protruding battlements.
Like Via Fillungo, the walls are where the Lucchesi come out to be themselves, to exercise, and to have chance encounters with friends. All the way around, the walk takes about an hour at a leisurely pace. For a brisker pace, bicycles can be rented at Piazza Santa Maria. Along the way, stop for lunch or gelato at Caffè San Colombano, and take the time to sit under a tree by the wall's edge with a view of the city and the mountains beyond.
Click an image to enlarge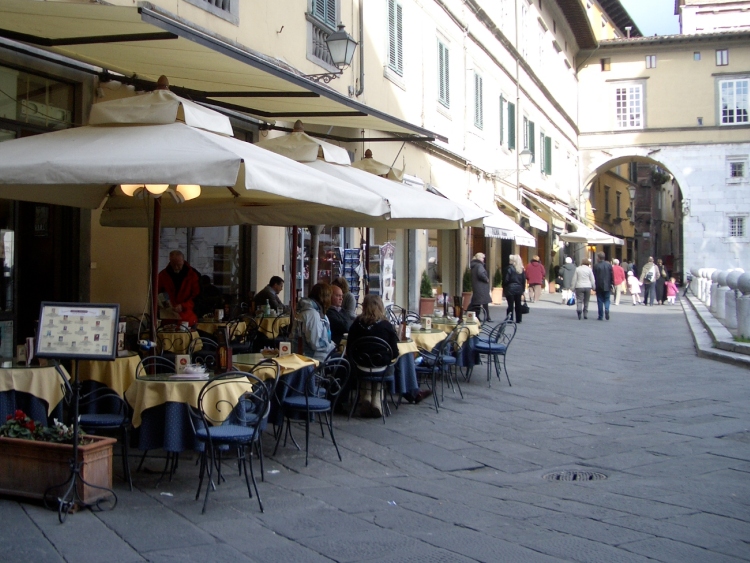 Wide-open plazas
Lucca's piazzas are places where surprises can happen. But even if they don't, you won't regret planting yourself for hours at an outdoor café on Piazza Napoleone beneath the rows of ancient plane trees, or by Piazza San Michele's flea markets, or along the intimate Piazza San Frediano. Be prepared for street performers, musicians, disoriented tourists, boisterous teenagers, octogenarians on bicycles, and pairs of lovers. But most of all, be prepared to relax, sip an apertivo, and take things as they come.